We finally got down to Morgana around 1:00pm on Saturday after M's footy on Sat morning (they won - 3-1), and I proceeded to fit the Television....I'd bought a bracket that articulates, and so positioning it wasn't easy.... as mentioned before, it needed fitting so that it was in a suitable position for the seating, hence not preferred on the bulkhead... and hence on the arm in front of the chart table.... I however, needed to fit it so that it cleared various obstacles, like the half height bulkhead in front of the chart table, the grab handle on the cabin roof, and stll allowed the locker to fully open....Eventually, with careful measuring, and even more careful drilling of holes (I hate drilling holes in a boat!), It worked beautifully....from the main saloon..
And with the tele rotated towards the chart table...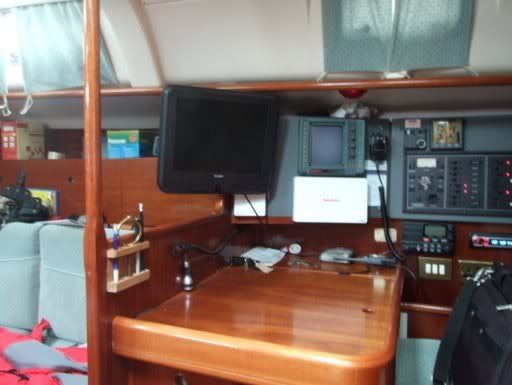 This means that not only can we use it for normal television purposes, but it can also be hooked up as a screen for the laptop.....I had also bought a small adaptor to convert the F series connector on the spare VHF antenna to a TV style socket.... sadly this proved completely hopeless.... the tele couldn't even tune a single channel.... a small mains powered aerial, worked a bit better and got a couple of channels, but in a barely viewable state.... I know that Shotley is bad for reception, so will try elsewhere... but it does look like we'll have to invest in a Glomex style TV aerial for the masthead...This job done, we relaxed a bit.... a kncok on the coachroof, and another ybw'er appeared... Peter... he'd been working with a few skippers on the Najad 380 that they charter out, and came for a bit of a natter... I also went and had a peek around the Najad... very nice boat!Eventually, we settled in for the evening..... SWMBO had brought down a very tasty casserole that she'd prepared at home... so a few tatties and some carrots went in the pan, and we enjoyed a super meal.... we don't miss out on decent grub when on board...After being comprehensively thrashed by the kids at various card games, we retired to bed... I always sleep very well on board, and awoke at nearly 09h00 to find it just starting to snow...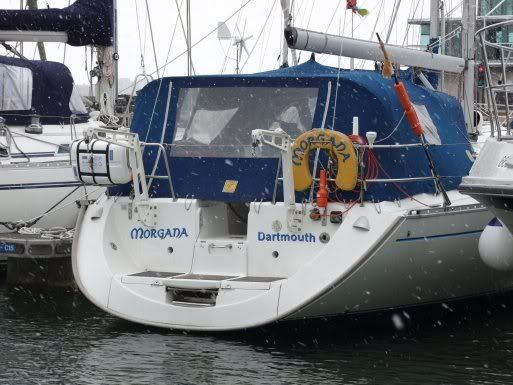 This out paid to any final thoughts about going for a sail, so we took our time packing up, I did one job i'd kept forgetting... tomeasure up the engine compartment for new sound insulation... we currently have the old 'egg cup foam' style stuff... and while it works, its not that efficient... so we may treat ourselves to some of the lead and foam stuff that should make a big difference.... the total area needing coverage is 3.5m2...... and then we set off home... Another none event weekend.... still... it should warm up soon!